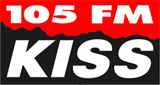 KISS FM Medan
Radio Kidung Indah Selaras Suara atau KISS FM yang didirikan pada tanggal 11 Desember 1968, tetap berkiprah dengan menampilkan lagu-lagu terbaru, program-program yang selektif kegiatan-kegiatan pendukung yang diminati masyarakat dan tetap mengadakan evaluasi secara terjadwal. Jika Anda simak 105 FM saat ini lebih menitikberatkan acuan pada kelompok pendengar dengan kepedulian tinggi terhadap kemajuan di masa mendatang. Dengan kerja keras oleh manajemen yang profesional, kami mendapat ranking pertama pendengar usia 15 s/d 29 tahun. Dan ranking pertama untuk seluruh pendengar radio di Medan.
Contacts
Address
Alamat: JL. CUT NYAK DIEN NO.16, MEDAN, SUMATERA UTARA 2O152 MEDAN
KISS FM Medan reviews :
No reviews added yet. Be the first to add a review for the station.
Leave a review